|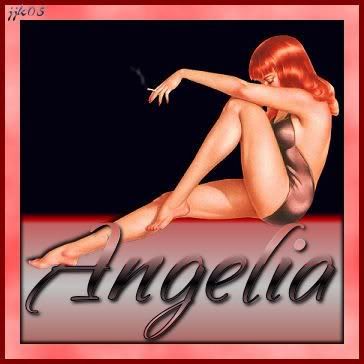 Wicked Games...

Have you ever just had moments where you want to be wanted...? It's not about wanting to follow through with that wanted-ness, but just to know someone finds you irresistible... I had one of those moments recently... I'd consented to go on a double blind date with Jeanette, her blind date, and a friend of his... And though I fully admit my teasing was utterly unfair, it *was* a blind date, where normal people don't *expect* to "get lucky"... And I thought it a good opportunity to experiment and ply my charms... (Which I don't get to do very often) Also, I must admit, while getting ready for this blind date, I wasn't really thinking of my date... I had another person in mind entirely...

But I was dead-set to impress - so the first step was appearance... I went through my entire closet before finally deciding... The ensemble was as follows: ivory linen blouse with low gathered bodice, with bell sleeves; paired with a burgundy velvet vest and black stretch velvet leggings; and finished with black patent leather stiletto heeled boots... I left my hair down, with loose curls, and used kohl to emphasize the slight slant of my eyes... But as everyone knows, looks are only half the equation... A fine appearance captures the intial attention, but can never hold it if you are not far more than a pretty face...

Our dates arrived... I complimented Bryan (my date) on his shirt, sliding my fingers down his sleeve from shoulder to wrist before taking his hand and letting him escort me to the car... Our first stop was a local dance club, where Bryan quietly admitted, "I don't dance much." I gave him my most dazzling smile and said, "Don't worry... Dance with me... I promise I'll make you look good..." I led him to the floor and used him as a foil for my moves... Taking his hand, I spun and danced around him, occasionally sliding in close and closer than close... He followed my lead well with just a few steps and his hands, making it seem as if he were leading me, which was of course the point... After that, he was more than willing to dance with me, and we danced the whole time we were there... "You look great, your singing kicks ass, your dancing is ... wow... What else do you do...?" he asked as we left... "There's very little I *don't* do... I'll try anything once... More if I like it..." I truthfully replied with a smile... (The implications of which were a little unfair, but it was a nice ego boost to see his eyes light up like christmas trees)

Afterwards, we headed to a sports bar to play some pool... And I learned exactly how to improve the angle of my lean across the table to keep Bryan's attention... He missed several shots due to that distraction, which all of us found amusing... But I did start to feel a bit guilty for toying with him so, especially since he wasn't the one my thoughts were really on... It just felt so incredibly *good* to be wanted... And I didn't mind the attention either, as I'd begun to think I was losing my touch... So I sat down at our table, determined to be a good girl... But the only thing I really have a talent for is being bad, I think... Bryan came over and sat down beside me... We talked, but I couldn't help myself from flirting outrageously with him - hand on his leg, holding his hand and stroking it with my fingers, whispering naughty double entendre responses to his comments...

I pushed things just a little too far... Especially since it wasn't *him* I was interested in, but that other who was in my thoughts... I finally got myself to behave a minute, pulled Jeanette aside, and told her what was up... She agreed it was probably a good idea to call it a night... So we managed to get us all headed home, but my guilty conscience was to take one more blow... Thinking to give Bryan a little sweet along with the tease, I kissed him goodnight and whispered in his ear, "Thank you... I had a *wonderful* evening..." But as I pulled away, the look on his face was so pained, I almost visibly cringed... He also looked a bit confused, and I felt somewhat worse for that as well, because I realised for him, my signals had become mixed indeed...

I've decided I'm not cut out for this blind dating thing... If I don't know or care about a person, it seems I just can't resist my worst impulses and just end up toying with them unmercifully... Which really wasn't right of me to do... I think in the future, I shall reserve my impulses (especially the worst ones) for situations I fully intend to follow through with... I suspect I am firmly labelled in the "Bitch" category with Bryan now, which I do deserve... But I'm sorry for that... He was a nice guy and I really *did* enjoy our date...